In the summer months, social committees for companies big and small look innovative ways to engage their employees and beat the heat!
Bringing slushies to the workplace is just the ticket.
Over the years, Cabo Enterprises has become bigger and better at meeting corporate needs, including for major players in the film, television, and gaming industry that are so important to our local Vancouver economy.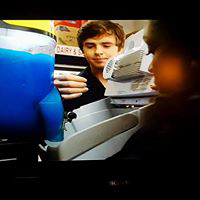 Just last year we worked with several different Sony Imageworks productions, creating themed frozen cocktails for wrap parties for their latest animated films.
For Kabam Games, Inc., we concocted four different superhero cocktails based on the characters in their game, Marvel Contest of Champions, including a dark cherry bourbon inspired by "Iron Man".
Another great day celebrated when the warehouse staff at Electronic Arts served our lime margaritas for their open house.
And did I mention, our frozen drink machine rentals and service been critical for the plot lines of several locally shot TV productions.
For episode #3 Olivia of The Good Doctor, we prepared over 70 litres of frozen blue slush and acted as onsite "slush wranglers" for multiple takes of Sean and Claire (Freddie Highmore and Antonia Thomas) pouring and using the blue Slush of Sean's childhood memories to save a kidney in transport.
Have you ever tried to imagine what a slushie made of brains would look like? We did for a multiple episode arc of the CW's I-Zombie. Working with the art department and props master, we matched the shade of pinky-beige they were looking by combining frozen cappuccino mix with cherry syrup.
In our latest foray, we were "daiquiri techs" on the call sheet for DC Legends of Tomorrow, spending the day keeping the product in the machines consistent as they needed to turn the power off and on, and slowly empty out the machine as the character Heat Wave (played by Dominic Purcell) and his superhero buddies kept drinking red daiquiris as the party scene continued. Needless to say, all the crew were happy after a very hot day of filming that we had lots of slushies left to go round.
Contact Cabo Enterprises for Corporate Event Rentals Vancouver BC
Consider us for your next Wrap Party or any event in the Vancouver Film Industry!
Email: info@caboenterprises.ca
Phone/Text: 604-307-6304
People love our frozen drinks, including
slushies
slurpees
margaritas
daiquiris
pina coladas.